UBF releases 2016 Annual Report
Back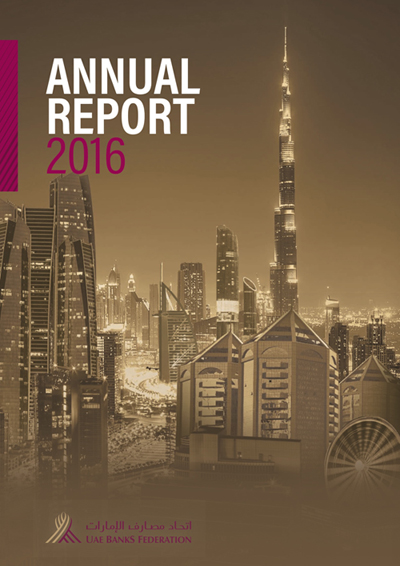 Despite Challenges, 2016 has been an outstanding year


The UAE Banks Federation (UBF), a professional body representing 48 member banks operating in the UAE, today released its 2016 annual report that highlights key initiatives and activities undertaken during the year 2016.
In his introduction message to the report, the Chairman of the Federation H.E. AbdulAziz Al Ghurair, notes that despite the global economic slowdown and plunge in oil price impacting overall growth, the UAE banking sector has remained largely resilient and robust. "2016 has been an outstanding year for the UAE Banks Federation. We were able to considerably sway the direction of the UAE banking sector towards a more conducive and purposeful direction. Member banks were able to receive comprehensive guidance on key initiatives – from raising industry standards and enhancement of customers experience to promoting financial literacy and Emiratisation."

The report recognizes the collective effort made by the Federation to develop the soon-to-launch Emirates Digital Wallet, a revolutionary application that is set to accelerate the UAE's advancement towards a cashless future, as well as the successful implementation of the "Modus Operandi" loan restructuring scheme for small and medium enterprises (SMEs) as some of the most notable initiatives during 2016.

The report also highlights a proposal to introduce a unified framework for handling customer complaints, aimed at helping improve the customer experience by increasing the degree of transparency and efficiency in customer service, as well as the first ever Financial Literacy competition for university students, which was organized by UBF to promote financial literacy among the country's youth.

Among the various activities undertaken by the Federation during the year, the annual report makes a special mention of the "Trust Index", a comprehensive survey that aimed to evaluate the overall measure of consumer trust in the banking and finance sector, with a set of sophisticated parameters. The survey revealed that despite uncertainty at a global economic scale in 2016, consumer perception of the UAE banking sector remained buoyant, with a majority of consumers exhibiting a positive outlook about the banking sector.

In addition, the report highlights the Federation's efforts to promote banking industry growth and create awareness on key issues facing the industry through organizing and supporting important events and seminars. These included the fourth annual Middle East Banking Forum, the International Fraud Awareness Week, and the Risk Management and Distress Predictions seminar.

The report also contains an overview of trends and developments as well as outlook of the global and regional economy as well as an analysis on the state of affairs in the UAE banking industry, covering a wide range of topics such as bank consolidation, interest rates, assets and deposits and lending, liquidity position, and investment strategies.